BLOG: "Our Top 5 Iconic Fashion Designers of all Time"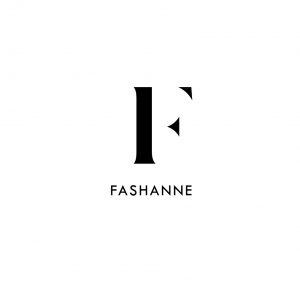 FASHION DESIGNERS OF THE FUTURE – OUR TOP 5 ICONIC FASHION DESIGNS OF ALL TIME
Patrick Grant, our co-host and head judge at this year's live Fashanne Awards, described fashion as
"the partnership of creativity and craftmanship". Quoting that fashion is not just something you
wear but objects of great beauty, that have enduring value and that should be cherished, we take a
look at our top five iconic fashion designs that have stood the test of time.
1) The Burberry Trench Coat: Arguably the most recognisable British design piece, the Burberry trench coat, originally called the Tielocken, was initially worn by British Officers in the trenches in WWI.  Popularised after the war by the public, the now iconic check pattern wasn't introduced till the 1920's and was only available in tan and black for over 100 years, with navy and red being introduced in 2015. Established in 1856, the coveted British brand is steeped in history as an outerwear company founded by Thomas Burberry – an innovative young man responsible for patenting the weather-proof material 'gabardine' and designing the must-have item for autumn fashion wardrobes across the world.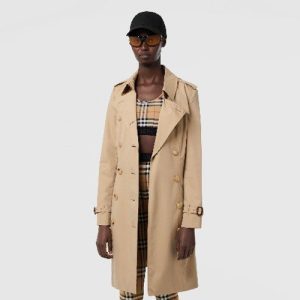 The Mid-length Chelsea Heritage Trench Coat in Honey – Women | Burberry® Official
2) Chanel's Little Black Dress: Before the 1920's, black was a colour worn to mourn. This all changed when Coco Chanel designed the 'LBD' and it featured on the front cover of Vogue Magazine in October 1926.
Previously a uniform for the working classes, the LBD had now become synonymous with chic cocktail parties although its origins to remain widely accessible and wearable has kept it a wardrobe essential with many a designer copying the simplicity and elegance of the original LBD.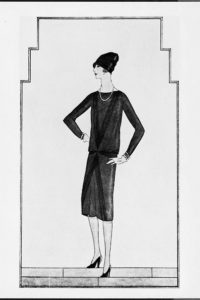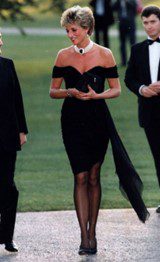 Left, the original 1926 sketch for Chanel's LBD. Right, Princess Diana famously wore her LDB – also known as the 'Revenge Dress', designed by Christina Stambolian, at the Vanity Fair Serpentine Gallery party in 1994 following then Prince Charles' admissions of infidelity.
3) DVF Wrap Dress: Simply put, the piece was a wrap top and a skirt put together but don't be fooled by its simplicity. Described by Vogue as a "sartorial symbol of women's sexual liberation", Diane von Furstenberg's classic jersey wrap dress changed the wardrobes of women forever when it launched in 1972. The influential design replaced the popular feminist pant suit look of the era and made the wrap dress a timeless classic.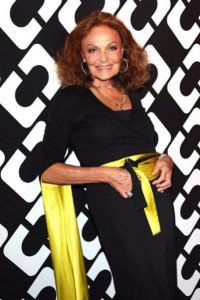 Designer Diane Von Furstenberg wearing her own creation, the wrap dress.
4) Hermes Birkin Bag: Widely renowned as the symbol of exclusivity thanks to its infamous long waiting list and extortionate price tag, the Birkin bag is considered to be the embodiment of luxury and is one of the most recognised handbags in the world. Named so after the 1980's actress Jane Birkin, was seated next to Hermes' CEO Jean Louis Dumas on a flight from London to Paris in 1984, struggled with her handbag, spilling its contents. After describing the perfect bag to him, Dumas designed a bag which later came to be known as the Birkin bag.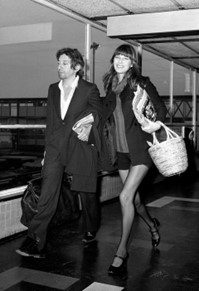 Jane Birkin carrying her straw bag that allegedly spilled its contents inspiring Hermes to create the Birkin bag.
5) Calvin Klein Slip Dress: American designer Calvin Klein has widely been held responsible for giving the aforementioned Chanel LBD a makeover in the 1990s, essentially turning the dress into something that very much resembled undergarments. The CK 1994 Spring Summer collection featured a silky slip dress, cut on the bias with spaghetti straps and it became an instant hit, sparking a brand-new trend for underwear as outerwear that seems to have endured the test of time most recently with the resurgence of 90's fashion to hit the 2023 fashion catwalks.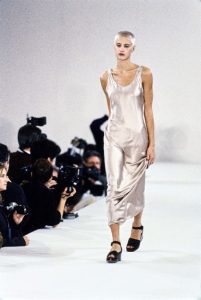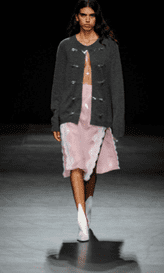 Left, a model in the CK SS '94 catwalk show. Right, Christopher Kane's SS23 catwalk show at LFW in Sept 2022.
Fashanne exists to bring together some of Britain's most iconic and famous fashion and retail brands including Paul Smith, Pentland Brands, Next, Green Earth Cleaning, ITL – Intelligent Label Solutions and Torque to name but a few, to help foster and nurture the inspiring work of Britain's new generation of young designers. Our annual live awards show celebrates and showcases some of the most innovative, impactful, engaging, dynamic, original and exceptional design pieces from universities across the Midlands.
Tickets to our next live show on 15th June 2023 will be available soon from Fashanne.com