Press Release: Fashanne 2023 (23rd June)
GRADUATE FASHION STUDENTS PIONEER A MORE SUSTAINABLE APPROACH TO FASHION INDUSTRY
What happens when design, ingenuity, and creativity collide? And, with it, a passion for slow, sustainable and considered fashion?
The Fashanne Awards – Fashion Designers of the Future – showcased the brilliant design talents, quietly bubbling away in our Region's universities, with designers ready to shout from the rooftops about the topics that will directly impact on future generations.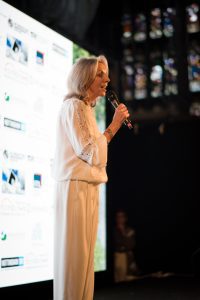 Fashanne was founded in 2016 by journalist and TV presenter Anne Davies to support and nurture the very best emerging and young design talent from universities across the Midlands, by connecting this new generation of designers with some of Britain's most iconic fashion and retail brands as well as offering financial support, showcasing opportunities at the annual live show and mentoring.
This year, the show themed Earth, had a zero- waste approach to everything including locally sourced cocktails, 100% plant-based canapes and a foraged living plant wall but the highlight was the student collections that took to the runway.
Collections addressed some of fashion's biggest challenges around material sourcing, water consumption, climate change, and fast fashion.
HERE ARE THE 2023 FASHANNE – DESIGNERS OF THE FUTURE – AWARD WINNERS: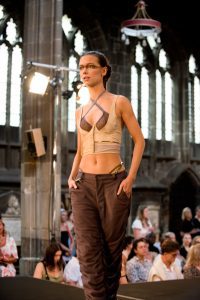 Francisca Santos from De Montfort University won the Athleisure Design Award. Fashion and function combined to create a collection that was both versatile and practical with a fashion edge.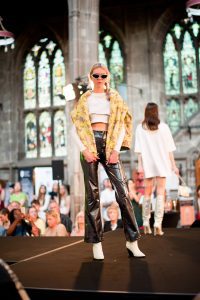 The Commercial Design Award, sponsored by ITL – Intelligent Label Solution, was awarded to Sofia Fabbricatore from De Montfort University who created her collection 'We Are The Label' for "aesthetically fluid" consumers who want to explore different styles but shop consciously. The collection implemented creative & sustainable solutions across the fashion cycle to encourage total circularity.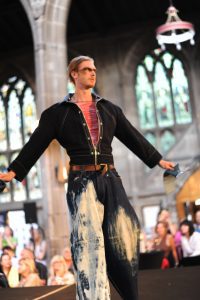 Harry Wheeler from Nottingham Trent University was the winner of the Designer Menswear Award, sponsored by Paul Smith. His concept focussed on pushing boundaries around the fashion traditional narrative.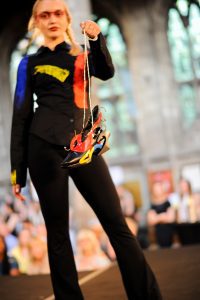 Jihwi Ahn from De Montfort University won the Footwear and Accessory Design Award, sponsored by Pentland Brands. Her collection 'The Unrepeatables' is inspired by the mobile art created by Alexander Calder. She focused on refined shapes such as brush strokes, floating silhouettes, and wound wire details inspired by the Korean traditional shaking head pin (Ddeoljam). The title implies that the mobile work cannot be repeated in the same way due to their movement, replicating human life, therefore, each of them is unique.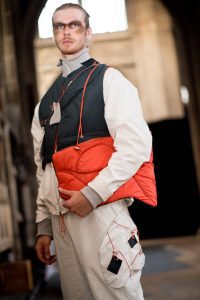 Designer Scarlett Simpson from Nottingham Trent University and winner of the High Street Menswear Award, sponsored by Next, created her collection by using 95% surplus materials. Addressing the urgency to combat climate change within the fashion industry, the collection utilises pioneering design processes such as ultrasonic welding machines which allow for 100% waterproof quilting, organic branding placements and magnetic fastenings for detachable and interchangeable designs to last for generations to come.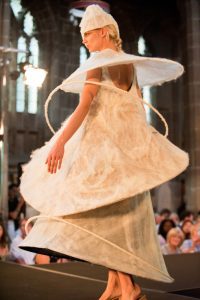 Designer Luoyuan Zhang from Nottingham Trent University and winner of the ASBCI Innovation Award, sponsored by Style 3D; based his concept design on 'respect for ecology and nature' with his collection fusing nature and craftmanship allowing the raw materials to speak for themselves.  Ethical considerations also played a huge role in his collections, growing his own silkworms over two months to raise awareness on the often-overlooked cruelty of the silk making process.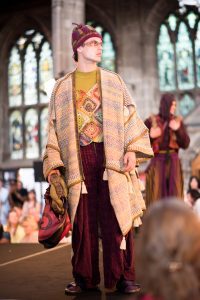 Gus Beech from Nottingham Trent won the Knitwear Design Award, sponsored by Stoll GB. His designs were heavily inspired by the ancient use of textiles as a visual language in storytelling.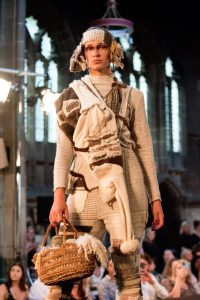 Designer Harriet Fletcher-Gilhuys from Nottingham Trent University and winner of the Sustainability Award, sponsored by GreenEarth Cleaning, took inspiration from Fibershed, a non-profit organisation based in California that develops regional and land regenerating natural fibre and dye systems. To create her collection, Harriet spent two months on a farm in Somerset where she learnt to sheer sheep, hand spun & dyed the wool as well as handknitted the entire collection to highlight the challenges faced within the British wool industry. Harriet was also awarded the Daniel Hanson Award for Excellence, sponsored by Nottingham BID, on the night.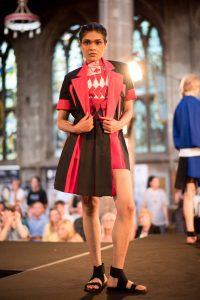 The Textile Design Award was given to Shuyu Zhou from The University of Derby. Inspired by her love of Poker – her collection didn't shy away from the darker side of gambling addiction. Her aim, to create a collection that showed the 'demon hiding behind a gorgeous façade', resembles a poker hand by folding the fabric, creating unique origami shapes, patterns, inserting pleats and folds for depth.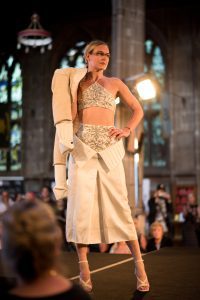 Hoang Son Le from Nottingham Trent University and winner of the Womenswear Design Award, sponsored by Next, combined luxury and sustainability within his collection. Using both high-end traditional materials, as well as recycled waste fabric and dead stock tailor textiles – this sustainable demi- couture collection highlights historical references and western tailoring elements to produce a strong, contemporary and edgy image of new women.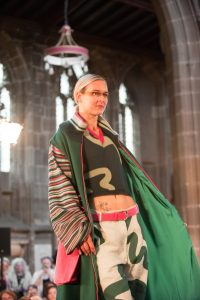 Fashanne also awards a People's Choice winner each year. This year that award was sponsored by The Victoria Centre in Nottingham and went to Bruna Neves from the University of Derby. With almost 10,000 votes cast in the run up to the show, Bruna won with an impressive 1014 votes.
For a full list of winners and runners up, please visit Fashanne.com
For more information, please contact essi@annedaviestv.co.uk
Please credit photography by Rachael Connerton
About FASHANNE:
FASHANNE draws on the East Midlands great design past as the historical home of the textile, lace, shoe, silk and knitwear industries, and aims to connect a new generation of designers with industry, bridging the gap between education and employment. These stunning awards offer its winners financial support, showcasing opportunities at the annual live show, mentoring and internships with leading companies from the world of fashion and textiles.
Just under 500 students have entered FASHANNE – Fashion Designers of the Future Award since its launch in 2016 with, to date, 13 internships offered to winners* who have gone on to take up roles in well-known companies including  Alexander McQueen, All Saints, Boden, Hugo Boss, Pentland Brands, and Ted Baker to name but a few.
For further information, please contact essi@annedaviestv.co.uk